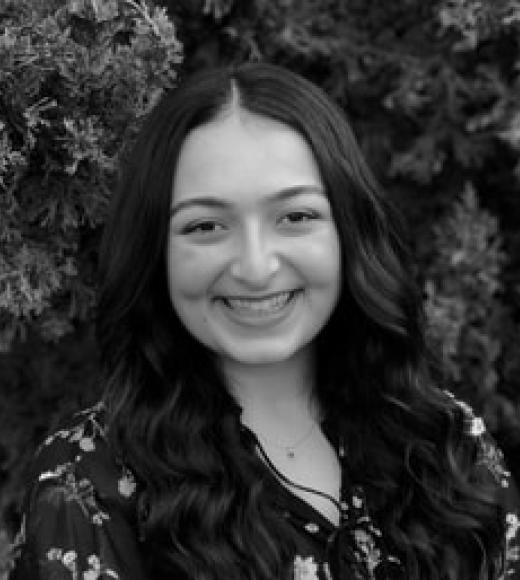 Bio
Undergraduate, ​Life Science. UC Davis Department of Design, CA, USA.
 Research
The Potential of Interactions Through Temporary Biosensing Pigments
Designer: ​Yasameen Farahvash
​Sponsor: Katia Canepa Vega, Ph.D.
Abstract: The exterior surface of the body provides a platform to obtain information about the inner, biological functions. Wearable technology has enhanced the use of non-invasive devices on the skin for electrochemical tracking of biological processes through data output. Similar research reveals a novel approach to permanent pigments, similar to tattoos, that can interact within the skin. This project investigates the potential of a temporary tattoo molecule, such as lawsone, to be implemented as a natural dye biosensor to reveal information about the body through interactions within the epidermis. Lawsone, also known as henna, is used as a paste that binds to the keratin proteins in the outermost layer of skin and is faded over time as the skin sheds and interacts with the environment. In the lab, experiments using an ex vivo model (pig skin) were conducted by modifying the appearance of the lawsone molecule with different substances, such as acidic manipulations for alterations in color. This project proposes the possibility of extending the functionality of henna from a traditional pigment to a chemical sensor in order to create an interactive display within the skin.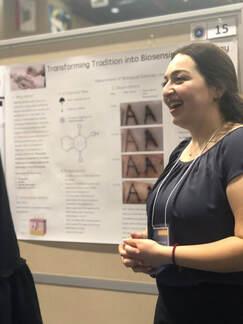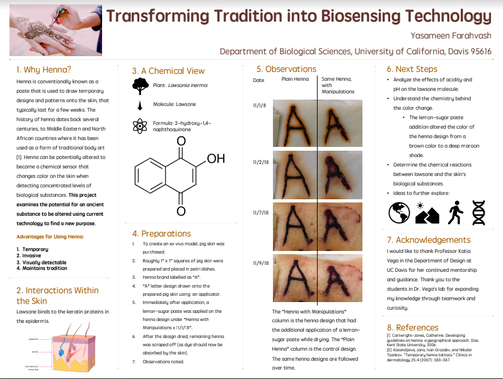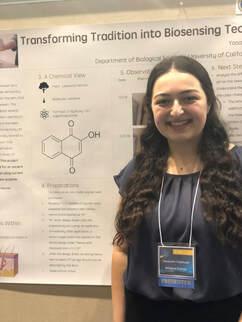 ---